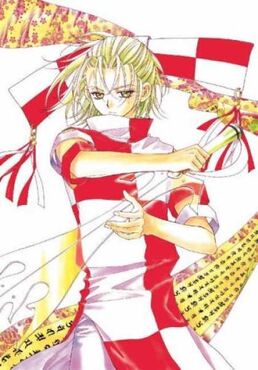 The Red Phoenix of the Four Guardians and the half brother of Kim Ah hin.
Appearance
Edit
Ee jung is extremely beautiful. He has light green eyes and long hair that is often tied into a ponytail with stray hairs left in front as a fringe, when out, his hair falls slightly short of his shoulders. He seems to take after his mother, whose family (the Red Phoenix clan) is notorious for their good looks and also for dressing up young boys as girls. As a result, Ee jung is now extremely comfortable in female clothing and when he wears it he is often mistaken for a beautiful girl. As the art style changes, he basically looks the same, but his face becomes slightly less round and eyes slightly smaller as well. His eyelashes and forehead become more defined and his ponytail is situated in a slightly higher position than it was before. The stray hairs are also more placed. Ee jung is not as tall as Bi wal but is said to be taller than Woo hyun, with long legs. In the side story, a girl remarks that he has "tall height" as well. One notable thing about Ee jung's appearance is that out of all the characters in the series, he has the most pronounced eyelids. Whilst some characters like Ah hin are shown to have thin double eyelids and big eyes, Ee jung's eyes are shown to be small, not round, but also to have very pronounced double eyelids at the same time.
Personality
Edit
Ee jung was described by the mangakas as being "Lazy (and), a Whiner" but doing everything that his big sister Ah hin wants. It is said that he is mostly cool about everything but extremely protective of Ah hin
Storyline
Edit
Relationships
Edit
Hwang Dong young
Edit
Yoon Woo hyun
Edit
Yoon Doh hyun
Edit
Jin Bi wal
Edit
Former White Tiger
Edit
Former Red Phoenix
Edit
Ee jung is 175 years old and is the same age as Woo hyun
The two are the youngest of the four guardians
As per his mother's clan tradition as well as the Red Phoenix's tradition, Ee jung spent his younger years dressed as a female. As such, people mistook Ah hin to be the strong big brother and Ee jung to be a beautiful younger sister
He is extremely dependent on Ah hin who is the centre of his universe
His motto is "What Ah hin says, goes"